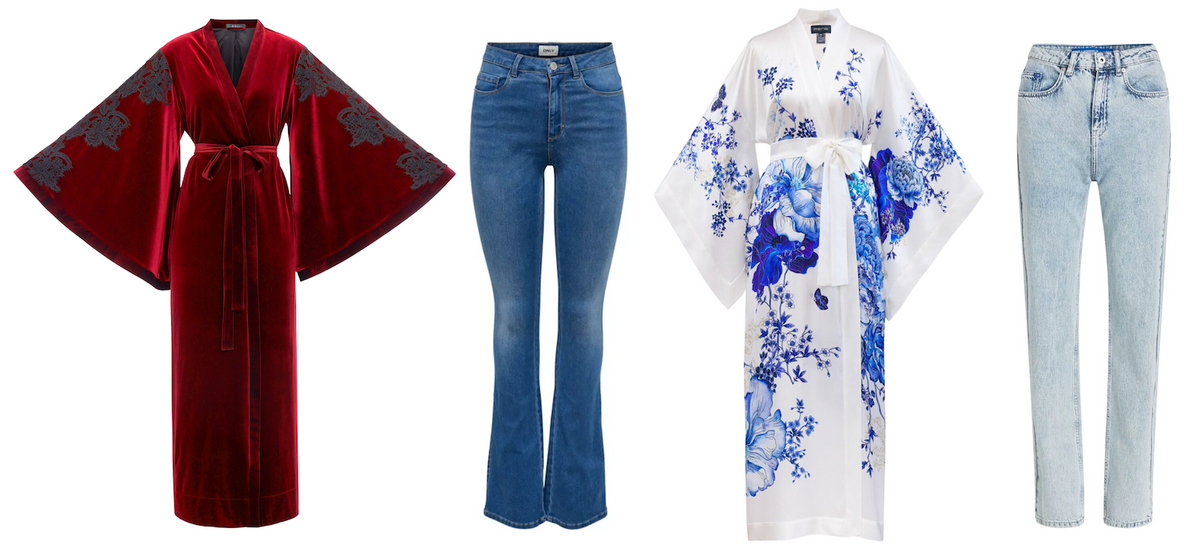 Hey kimono lovers, it's Anna here! 
Today, I'm diving into a trend that's close to my heart: blending the timeless elegance of a Japanese kimono with the everyday cool of jeans.

Sounds intriguing, right? Imagine walking down the street, turning heads, not just because you look great, but because you're showcasing a fashion statement that bridges worlds – the classic and the contemporary, the East and the West. That's the magic of pairing a kimono with jeans.

 When you slip into a kimono, you're draping yourself in history, in art. Kimonos, with their rich fabrics and intricate designs, carry stories of ancient Japan, of artisans pouring their souls into every pattern. Now, take a pair of jeans – the symbol of Western practicality and casual cool. Jeans have evolved from workwear to a fashion staple, worn by people from all walks of life. 

 By combining these two distinct items of clothing, we're not just dressing up; we're creating a dialogue between cultures. It's a celebration of diversity, a testament to how fashion can transcend boundaries. It's about honoring tradition while embracing change. And the best part? This style is incredibly versatile. 

 Let's embark on this stylish journey together! I'll walk you through choosing the right kimono, finding the perfect pair of jeans, and accessorizing to bring it all together. Whether you're stepping out for a casual coffee or heading to a chic event, this combination is sure to make a statement.

 Ready to explore this fusion of elegance and edginess? Stay tuned for tips, tricks, and inspiration on how to wear a kimono with jeans in a way that's uniquely you.
Pairing Kimono with Jeans
Now first let's talk about kimono and jeans separately, shall we? it's short I promise. 
Choosing the Kimono
I can bet that any contemporary kimono can be mixed and matched with jeans. Selecting the kimono is the first step in creating this unique ensemble. The key lies in choosing fabrics and patterns that complement your jeans. Lightweight materials such as cotton or silk blends are perfect for a relaxed vibe. Heavy velvet fabrics or brocade give off evening dining and wine vibes.

 Patterns or solid colors? Totally your choice that adds a personality to your outfit. Bold colors make a statement, while subtle designs offer a more understated elegance. The trick is to find a balance – if you opt for flamboyant jeans, a toned-down kimono pattern is advisable, and vice versa.

Color coordination is crucial. Dark denim paired with a light-colored kimono can create a harmonious contrast, elevating the entire look.
Picking Your Jeans
Finding the right pair of jeans is essential. What is right, Anna, you may ask? Basically anything straight, flair or wide-leg. I know some of you love skinny jeans, and as much as these jeans are hated and considered outdated in year 2023, I do not think you should care.  While skinny jeans offer a sleek silhouette, wide-leg or straight cuts can provide a striking contrast to the fluidity of a kimono. Color-wise, traditional blue denim is a safe bet, but exploring shades like black or white can add an exciting twist.

 The choice between classic and distressed jeans depends on the desired final look. Mildly distressed jeans can add a modern edge, while classic styles maintain a more timeless appeal. How to wear a kimono with jeans depends on your unique take, but there certainly are some tips and tricks I will share later in this article.
Accessorizing Your Kimono and Jeans Ensemble
Accessories are the unsung heroes of any outfit, and when it comes to pairing a kimono with jeans, they play a pivotal role in tying the whole look together. How to wear a kimono with jeans? Add accessories to match! Let's delve into the myriad of ways you can accessorize this unique ensemble. 
Footwear Choices
Sandals

For a laid-back yet chic vibe, sandals are your go-to. They're perfect for warmer days and add a relaxed, earthy feel to the outfit. Whether you choose strappy flats or gladiator sandals, they underscore the kimono's flowy nature.
Boots
To add an edge to your ensemble, opt for boots. Ankle boots work wonderfully, giving a slight lift while maintaining comfort. They're ideal for cooler weather and add a touch of modernity.
Heels and Pumps
 When you want to elevate your look heels or pumps are the answer. They elongate your silhouette and add a sophisticated touch. A pair of sleek stilettos or elegant pumps can transform your outfit into evening wear in an instant.
Jewelry, Hats and Belts
Jewelry
Minimalistic jewelry complements the intricate patterns of a kimono without overwhelming it. Think delicate necklaces, simple bracelets, or elegant stud earrings. They add a touch of sparkle and finesse, highlighting your features subtly.
Hats
 A wide-brimmed hat not only offers protection from the sun but also injects a bohemian touch. It can be a statement piece, especially if you choose one in a bold color or with an interesting texture. 
Dramatic? - Yes. 
Belts
 Belts are fantastic for adding structure to the flowy kimono. They define your waist and can change the entire silhouette of the outfit. Opt for a wide belt for a bold look or a skinny belt for a more understated style.
Accessorizing is all about balance and personal expression. Each element, from your footwear to your jewelry, should resonate with your individual style while enhancing the unique combination of a kimono with jeans. Experiment with different accessories to find the perfect blend that speaks to your fashion sense.
Styling Tips and Tricks on How to Wear a Kimono with Jeans
Focal Point - The Kimono
The kimono should be the centerpiece of your outfit. Select a design that resonates with your personal style, whether it's richly patterned, brightly colored, or elegantly understated.
Pair your kimono with jeans that allow it to stand out. This could be a pair of simple skinny jeans, sleek straight-legs, or even relaxed boyfriend jeans, depending on the kimono's style and fabric.
For Semi-Formal Events
So, how to wear a kimono with jeans for a more classy semi-formal look?
Choose a refined, perhaps less colorful kimono, paired with dark-wash jeans. This combination can provide a chic, semi-formal look appropriate for a variety of events.
Take a look at our assembly on the left, to make your look more edgy pick a statement leather belt like on our image. For a more refined elegant look, pick a simple, thinner leather belt with no heavy details. 
For Casual Outings
How to wear a kimono with jeans for a casual look?
Embrace vibrant patterns and colors. A lively kimono paired with light-wash jeans makes for a playful, eye-catching outfit perfect for casual day events or relaxed evenings out.
 Take a look at our assembly on the right to get inspired. For a spring or summer look, find how to wear a kimono with jeans and sandals or pumps for an easy, breezy style.
Weather Adaptation
Cooler Days: Layering is key. A long-sleeve top under your kimono or a cozy scarf over it can add warmth without compromising style. Consider also a light jacket or cardigan that complements the kimono's design.
Warmer Weather: Opt for kimonos in lighter fabrics like cotton or silk. Pair with lightweight jeans to maintain comfort and ease, especially on hot days.
Silhouette and Proportions:
Attention To Details
✓  Pay attention to the overall silhouette. A belt, for instance, can cinch the waist of a flowy kimono, creating a more defined shape.
✓  Consider the length of the kimono in relation to the jeans. A longer kimono might pair well with slim-fit jeans, while a shorter one could work nicely with wider-leg styles.
✓  Make sure the fabric is right for the weather, otherwise, the look might be out of place.
 
Personal Experimentation
Fashion is a personal journey. Don't hesitate to experiment with different combinations of kimonos, jeans, and styling approaches. Develop your own take on how to wear a kimono with jeans, Try different lengths, cuts, and textures to discover a look that truly represents your unique style.
While crafting this blog post, a spark of creativity (and perhaps caffeine) struck me. I realized that we have a stash of velvet kimonos tucked away in our atelier!  And then, an idea: why not bring these kimonos to life right here, right now with what we have?
I enlisted our team for an impromptu-style session. 
Picture this: colleagues peeling off their layers, handing over jeans and tops right in the middle of my office. Our mission? To dress up my assistant, Mariana, in an ensemble featuring these kimonos.
There was Mariana, suddenly the centerpiece of our spontaneous fashion experiment
So here are our assembled looks on how to wear a kimono with jeans with our very limited garment choices.
Casual Burgundy Short Velvet Kimono
The rich burgundy velvet kimono is the standout piece, offering a luxurious and eye-catching contrast to the casual, wide-leg blue jeans with a trendy raw hem. The simplicity of the black satin top underneath allows the kimono to take center stage, while black pumps add a sophisticated touch. The look is completed with a classic black handbag, marrying functionality with fashion. Overall, this outfit is a chic example of how traditional attire can be effortlessly integrated into modern, everyday wear.
In this look:
Velvet Kimono - Kafemme
Leather handbag - Ralph Laurent
Jeans - House
Satin Top -  Kafemme
Pumps -  Zlata
Leather Belt - Unknown
Gray Chic Short Velvet Kimono
Here we have a silver crushed velvet kimono that adds a splash of glam to the distressed blue jeans, creating a playful contrast between luxe and laid-back. Underneath, a black crop top keeps the look sleek and modern. The ensemble is cinched at the waist with a wide black belt for a flattering shape, and finished with classic black pumps that bring an element of sophistication. This outfit cleverly mixes textures and styles.
In this look:
 
Velvet Kimono - Kafemme
Jeans - Mango
Crop Top -  Reserved
Pumps -  Zlata
Leather Belt - Unknown
Blue Chic Short Velvet Kimono
The ensemble features a rich blue velvet kimono. It's an eye-catching piece that balances elegance with a relaxed drape. The kimono's vivid blue hue is striking and provides a pop of color that stands out against the more subdued tones of the rest of the attire. As I mentioned earlier in this article - the kimono must be the focal point.  

Underneath the kimono is a black sequined top, which introduces a festive sparkle, contrasting with the matte texture of the charcoal jeans. The high-waisted cut of the jeans offers a contemporary silhouette, while the classic black pumps elongate the figure. A chunky chain-link handbag completes the look, merging practicality with a bold fashion statement.
In this look:
Velvet Kimono - KAfemme
Beaded Purse - KAfemme
Jeans - Levis
Sequinned Bodysuit -  KAfemme
Pumps -  Zlata
Leather Belt - Unknown
So here's the thing: if we can orchestrate a full-blown outfit swap in the office, turning my assistant into an impromptu model, then you, my dear reader, can certainly do it.
Take a moment to really peruse your wardrobe, and you'll find that even the most basic pieces can come together to create an array of stylish options. 
Related Readings